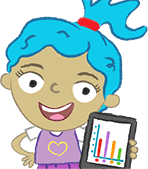 ---
Early Math with Gracie & Friends® and the characters and related indicia are trademarks and copyrights of WGBH Educational Foundation. The First 8 Studios® at GBH website was produced by GBH Kids. ®/© 2014-2022 WGBH Educational Foundation. All Rights Reserved.
Education Development Center, Inc. is the developer and owner of all DCA Investigations intellectual property rights, including without limitation, copyrights and other rights associated with works of authorship in the Investigations, used cooperatively under license by WGBH Educational Foundation.


This website includes materials based upon work supported by the National Science Foundation under Grant No. DRL-1119118 and Grant No. DRL-1933698. This website's contents, including any opinions, findings, and conclusions or recommendations expressed in its materials are those of the author(s) and do not necessarily reflect the views of the National Science Foundation.