In Photo Friends, two children (or a child and adult) see their pictures in funny places with Gracie and her friends! Enjoy the giggles of looking like bunnies or flying through outer space in a rocket while making sure that all friends get fair shares. This game provides a fun way for children to equipartition. Equipartitioning is dividing a collection of objects into equal groups or a continuous whole into equal parts. It is an important skill that helps build children's understanding of fractions, ratios, division, multiplication, number sense, and number composition.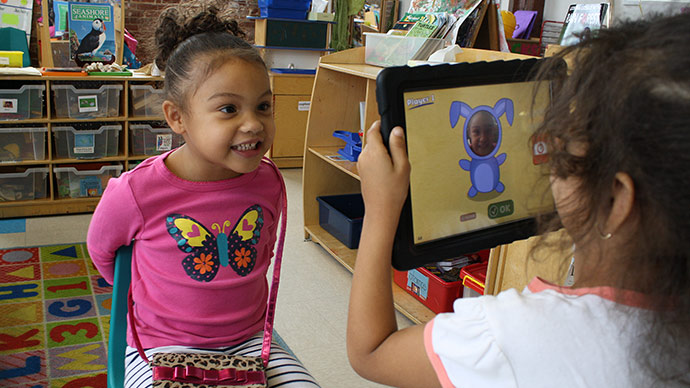 Photo Friends is part of the four-game equipartitioning suite from Early Math with Gracie & Friends, a first-of-its-kind mobile app brand based in early learning sciences, rigorously researched and developed specifically for preschool classroom use. A randomized control trial demonstrated significant learning gains in children who used the Early Math with Gracie & Friends apps.
Early Math with Gracie & Friends is not just apps! Our research shows the importance of engaging learners in hands-on, non-digital play in the classroom and at home. In fact, for every Gracie & Friends app, we have created and researched around five hands-on activities! Find the entire curriculum in the digital Teacher's Guide and explore activities for home in the Family Fun guide.